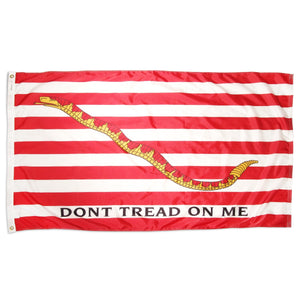 This 3' x 5' nylon 1st Navy Jack flag is finished with a strong canvas heading and 2 brass grommets for easy display.
Conceived by Commodore Hopkins in 1775, the 1st Navy Jack was originally used as a signal to engage the enemy. It has 13 alternating red and white stripes with an uncoiled rattlesnake emblem and the motto "Dont Tread on Me."
Since September 11, 2002, all U.S. Navy ships have been flying the 1st Navy Jack in the global war on terrorism.