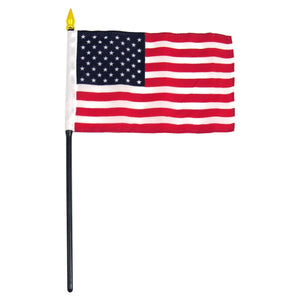 Very low price, great for parades, giveaways and rallies
10" plastic staff with a gold spear tipped end
Flag has sewn edges and a pole hem


Whether you need American flags on a stick for a motor scooter, as a desk ornament or for display while marching in a parade, you can find Best Quality USA stick flags in 4" x 6" dimensions at Online Stores. It is printed on a polyester material that looks like silk. It comes with a gold spear tip, a sewn pole sleeve and sewn edges. The USA flag is mounted on a 10" plastic stick.
Features:
Sewn pole sleeve
Gold spear tip
Sewn edges
Flag mounted on a 10" plastic stick