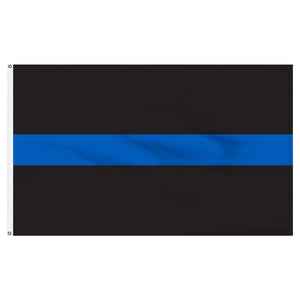 Made with 100% nylon, known for its weather resistance
Excellent durability and resistance to fading
100% made in the USA
Finished with a heavy canvas heading and brass grommets
Excellent fly ability, requires low winds to fly
This flag is a symbol used by police officers and law enforcement to symbolize the relationship of law enforcement in the community as the protectors of civilians from criminals. Each stripe represents something different. The blue stripe represents law enforcement, the top black stripe represents the public and the bottom black stripe represents the criminals.