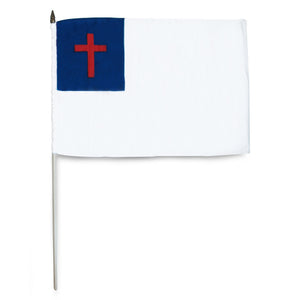 Very attractive printed polyester flag
Mounted on a 24" sturdy wooden staff
Flag has sewn edges and a pole sleeve
Our 12" x 18" Christian flags are suitable for indoor and outdoor use. They are a higher quality than you can find anywhere! Most flags this size are cheaply printed on coarse fabric and stapled to a wooden stick. Our flags are nicely printed onto quality polyester fabric and sewn around all the edges. They have a sewn pole sleeve, which is used to mount them to a 24 inch stick with spear tip. These flags are suitable for use both outside and inside. They look great anywhere!