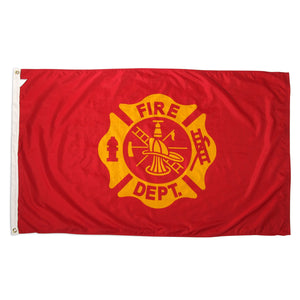 Made with 100% nylon, known for its weather resistance
Excellent durability and resistance to fading
100% made in the USA
Finished with a heavy canvas heading and brass grommets
Excellent fly ability, requires low winds to fly
A great way to pay tribute to live-saving first responders and brave battalions is with the 3' x 5' Fire Department Nylon Flag available at United States Flag Store. The 100% nylon fabric used in this flag is suitable for outdoor use because of its durability and flyability. The reinforced canvas header with two brass grommets contributes to the flag's ability to stand up to adverse weather conditions. The flag depicts the Maltese Cross in the corner and is a fitting way to honor firefighters everywhere. Order from United States Flag Store and the Fire Department Nylon Flag will ship in one to two business days.