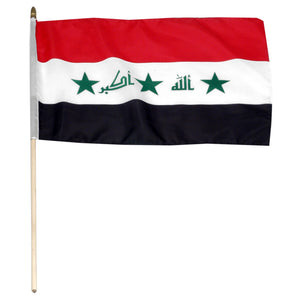 Iraq Flag 12" x 18" Higher quality than you can find anywhere!

Most flags this size are printed on coarse fabric and have cut edges. Our 12" x 18" stick flags are nicely printed onto quality polyester fabric and sewn around the all edges. Most have a sewn pole sleeve, which is use to mount them to the 24 inch wood stick*.

*Note: Depending on availability some flags may be stapled to the wooden stick. The flag quality however, will be to the highest standard.