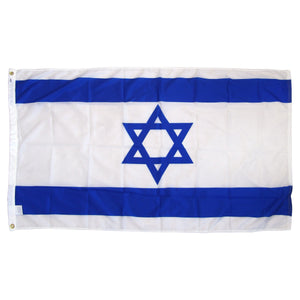 Made with 100% nylon, known for its weather resistance
Excellent durability and resistance to fading
100% made in the USA
Finished with a heavy canvas heading and brass grommets

Excellent fly ability, requires low winds to fly
Durable heavyweight fabric goes into the manufacture of the 3' x 5' nylon Israel flag available at Online Stores. A strong canvas header and two brass grommets finish off this blue and white flag suitable for flying outdoors or displaying indoors. Only low winds are required to get this Israel flag flying. It also is strongly resistant to fading. Orders of multiple flags could be eligible for free shipping from Online Stores.