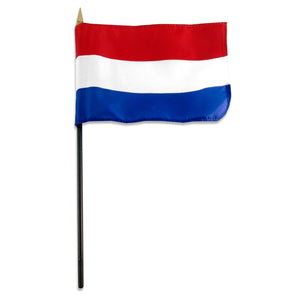 This 4" x 6" Netherlands stick flag is of a higher quality than you can find anywhere, and is sewn around the edges. These flags have a hem at the pole end, which the pole slides through. The flags are nicely printed onto poly-cotton fabric with bright colors. They all are mounted on black plastic sticks with gold spear tips.
This flag is suitable for parades and other events, or get the desk stand for just $1.10 extra and fly it on your desk!
The Netherlands flag is also know as the flag of Holland or the Dutch flag.